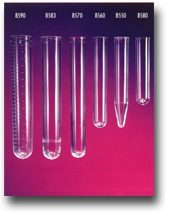 Precision-molded from premium grade polystyrene or polypropylene, these general purpose tubes are ideal for a wide range of applications.
Prevents the breakage problems associated with glass test tubes.
Polypropylene tubes are tough, autoclavable, and chemically resistant, while polystyrene tubes offer glass-like clarity.
8562 and 8563 are available in natural, amber, blue, green, lavender, orange, pink, and yellow.